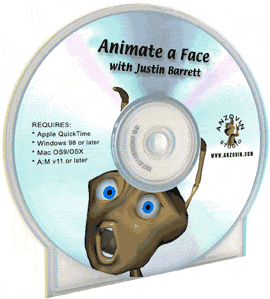 UPDATE 12/24/16:  These videos are no longer available for purchase due to the closing of MindBites.  However, they will soon be available for FREE.  More details coming soon…
Learn how to create believable facial animation with this series of tutorials, which contain nearly 4 hours of video. Topics discussed include:
Observation and planning
Principles for animating eyes, eyelids, eyebrows, and mouth, with demonstrations designed around a short sample clip
Application of traditional animation principles to facial animation
Detailed lip-sync demonstrations using both 3D and 2D mouth designs
Facial rigging and animation techniques specific to each design
While Animation:Master was used to demonstrate these concepts, the topics discussed can be applied to facial animation in any package. Very few program-specific tools are used.